Camarillo Airport (KCMA):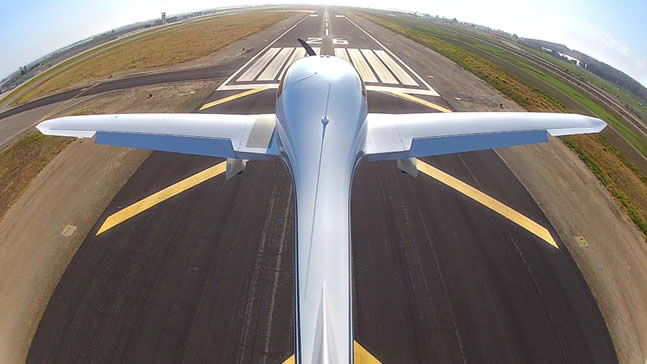 Camarillo Airport:
One of the best kept secrets of the aviation world, the Camarillo Airport is a great place to learn in Southern California. Complemented with a beautiful landscape and amazing weather, the airport is close to the 101 freeway with quick and easy access. The airport has many services to offer, a great restaurant, aircraft maintenance and FBO's. The Camarillo Airport makes for a great learning base.
Airport Diagram: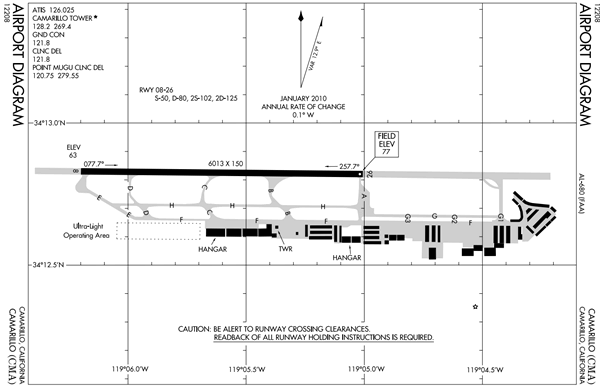 LOCATION
Location Identifier:
CMA
Lat/Long:
34-12-49.5000N / 119-05-39.7000W
Variation:
14E (1990)
Elevation:
77 feet MSL (Surveyed)
From city:
03 miles W of CAMARILLO, CA
AIRPORT OPERATION
Airport use:
Open to the public
Sectional chart:
LOS ANGELES
Control tower:
Yes
ARTCC:
LOS ANGELES [310-970-0102]
FSS:
HAWTHORNE [1-800-WX-BRIEF]
NOTAMs facility:
Yes
Wind indicator:
Lighted Wind indicator exists
Segmented circle:
Yes
Lights:
DUSK-DAWN
Beacon:
White-Green (Lighted Land Airport)
Landing fee:
Yes
Traffic Pattern Altitude:
800 feet AGL
International operations:
No
Attendance schedule:
ALL/ALL/ALL

AIRPORT COMMUNICATION
CTAF:
128.200
Runway Information for 08/26
Dimensions:
6013 x 150 ft
Surface:
Portland Cement Concrete, Asphalt or Bituminous Concrete ( Good Condition ) Rubberized Friction Seal Coat
Weight bearing capacity:
Single wheel: 50.0
Double wheel: 80.0
Double tandem: 125.0

Runway edge lights:
Not Known
Runway 08
Runway 26
Latitude:
34-12-49.8119N
34-12-49.2278N
Longitude:
119-06-15.4596W
119-05-03.8660W
Elevation: 
63.3
76.8
Gradient:
0.2
0.2
Traffic pattern:
Right
Left
Runway heading:
090
270
Markings:
Non-precision Instrument in Fair condition
Non-precision Instrument in Fair condition
Visual slope indicator:
2-LGT PAPI ON LEFT SIDE OF RUNWAY
2-LGT PAPI ON LEFT SIDE OF RUNWAY
Runway end Identifier lights:
Yes
Yes
AIRPORT SERVICES
Fuel available
Airframe service
Powerplant service
Bottled oxygen
Bulk oxygen
Transient Storage Facilities
Other Airport Services
GRADE 100LL GASOLINE (LOW LEAD BLUE) JET A (KEROSENE, FREEZE POINT -40C)
MAJOR
MAJOR
NONE
LOW
Tie-down
Avionics , Charter Service , Pilot Instruction , Aircraft Rental , Aircraft Sales
AIRPORT OWNERSHIP AND MANAGEMENT
Ownership:
Publicly-owned
Owner:
COUNTY OF VENTURA
555 AIRPORT WAY
CAMARILLO, CA 93010-8544
805-388-4372
Manager:
AARON WALSH
555 AIRPORT WAY
CAMARILLO, CA 93010-8544
805-388-4246
AIRCRAFT BASED ON CAMARILLO
Single engine airplanes
Multi engine airplanes
Jet airplanes
Helicopters
Ultralights
502
46
16
6
30
OPERATIONAL STATISTICS
Air Taxi
Local
Itinerant
Military
2823
93443
56992
102
ADDITIONAL REMARKS
THIS AIRPORT HAS BEEN SURVEYED BY THE NATIONAL GEODETIC SURVEY.
UNLGTD MTN 1173 FT MSL; BEGINNING 5 MILES FM EAST END RY 26. UNLGTD MTN 1814 FT MSL 5 MILES TO ESE OF APCH END RY 26.
NO FORMATION TKOFS OR LDGS.
NUMEROUS FLOCKS OF GEESE INVOF ARPT.
NO TAKEOFFS 0000-0500 LOCAL TIME (WITHOUT PRIOR PERMISSION).
WILDLIFE ON AND INVOF ARPT.
NO LDGS/TAXIING/TKOFS ON CHEVERONED AREA EAST OF RY 26 THR.
NOISE SENSITIVE ALL QUADRANTS PRACTICE NOISE ABATEMENT/FLY QUIET/PROCS.
CTN: HIGH PERFORMANCE MIL. ACFT OPNS INVOF ARPT.
< 12,500 OVER ACFT FOR FEE>
FUEL AVBL 24 HRS SELF SERVE.
WHEN ATCT CLSD ACTVT MIRL RY 08/26 & REIL RYS 08 & 26 - CTAF.
ULTRALIGHT ACTIVITY SW QUAD OF ARPT.
TPA SINGLE ENGINE 800 FT AGL; MULTI ENGINE AND JETS 1000 FT AGL.